Imagine securing your construction site, event venue, or property effortlessly. With our 6x12 temporary fence panels, this isn't just a dream but a reality. These panels stand as a highly efficient, robust solution for short-term fencing needs. With flexibility, durability, and ease of installation as its hallmark features, our temporary fence panel emerges as the top choice among customers.
Superior Features
Our 6x12 temporary fence panels come packed with numerous customer-friendly features. First off, these panels include all the necessary hardware. That means no extra effort or cost to secure additional parts. Secondly, the panels boast an impressive level of durability. Thanks to the steel construction, our fence panels drastically minimize the risk of damage, providing a lasting solution for your temporary fencing needs.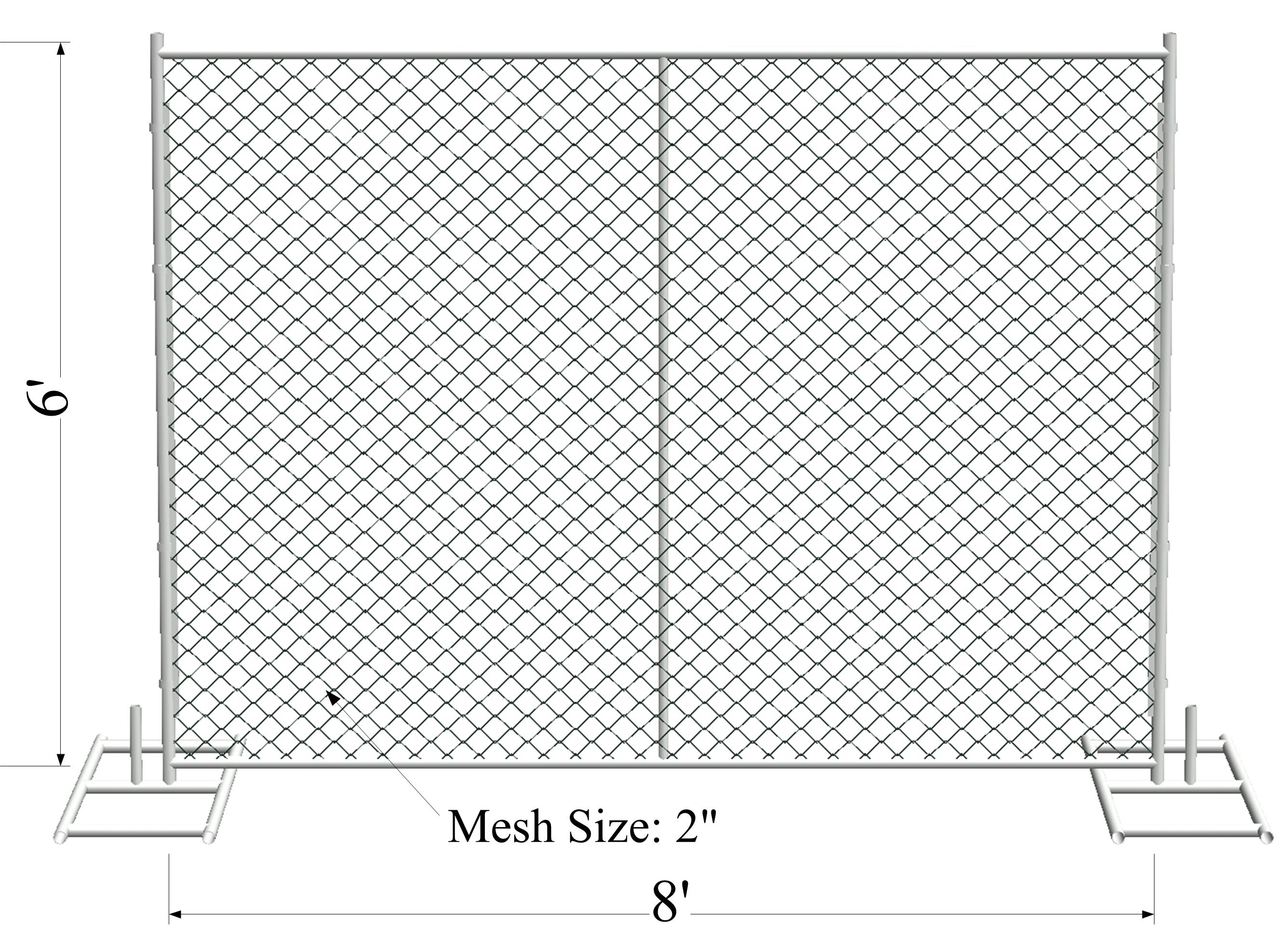 Applications 6x12 temporary fence panels
Construction Sites: Temporary fence panels are extensively used in construction sites to create boundaries and secure the site from unauthorized access. They help in preventing theft, vandalism, and accidents by keeping pedestrians and vehicles away from hazardous areas.

Events and Festivals: Temporary fence panels are used to manage crowd control and create designated areas at events, concerts, festivals, and sports venues. They help in guiding the flow of attendees, creating queues, and separating different sections or stages.

Security and Safety: Temporary fence panels are employed for security purposes in public places, such as airports, train stations, and government buildings. They assist in controlling access, directing foot traffic, and enhancing safety protocols.

Outdoor Public Spaces: Parks, recreational areas, and public gardens often utilize temporary fence panels to establish boundaries, protect sensitive areas, and designate specific zones, such as playgrounds or sports fields.

Temporary Barrier and Dividers: Temporary fence panels can be used to create barriers and dividers in various settings. For example, they can be employed to isolate construction or maintenance areas within a building or to separate different sections of a warehouse or storage facility.
Detailed Specifications
Delving into the specifics, the 6x12 temporary fence panels shine in their versatility. They are available in various heights, such as 4ft, 6ft, and 8ft, offering a tailored solution for different requirements. The range of lengths includes 8ft, 9.5ft, 10ft, 12ft, and 14ft, ensuring the perfect fit for your property or site. The panels feature a frame size of 1.5" or 1-3/8", and a 2-1/4" mesh size, providing the perfect balance between visibility and security.
Specifications 6x12 temporary fence panels
| Specification | Details |
| --- | --- |
| Product | 6x12 Temporary Fence Panel |
| Material | Steel |
| Included Hardware | Yes |
| Heights Available | 4ft, 6ft, 8ft |
| Lengths Available | 8ft, 9.5ft, 10ft, 12ft, 14ft |
| Frame Size | 1.5", 1-3/8" |
| Mesh Size | 2-1/4" |
| Customization | Available on request |
Customization and Flexibility
Understanding that every client has unique needs, we're ready to go the extra mile. We offer the possibility of custom designs for your 6x12 temporary fence panels. Whether it's a unique height, length, or a specific color scheme to match your company branding, we have you covered.
Make Your Purchase Decision Today for 6x12 temporary fence panels
In conclusion, our 6x12 chain link fence panels present an unbeatable combination of reliability, security, and convenience. As the ideal solution for your temporary fencing requirements, we invite you to experience the blend of quality and performance these panels offer. Take a step today to secure your site with our superior temporary fence panels. We assure you, it's a decision you won't regret!